Thinking about kitchen remodeling? The kitchen is a recurring and essential place in our daily life. We want to have to eat and cook. And cooking is increasingly entertaining due to new ideas, new recipes, that we can find on the net and we are dying to try.
And, nothing better than a kitchen with style and that makes a difference. A space that motivates us to try new recipes. We have different styles, different corners that we can remodel to create a unique kitchen that enriches the experience. Today, we have given ourselves the work of looking for options that will lead you to create your new kitchen in less than a week. Kitchens and innovative, modern and "simple" ideas (if in quotes, since no remodeling is).
Don't miss our suggestions and dare to innovate!
So you don't forget anything!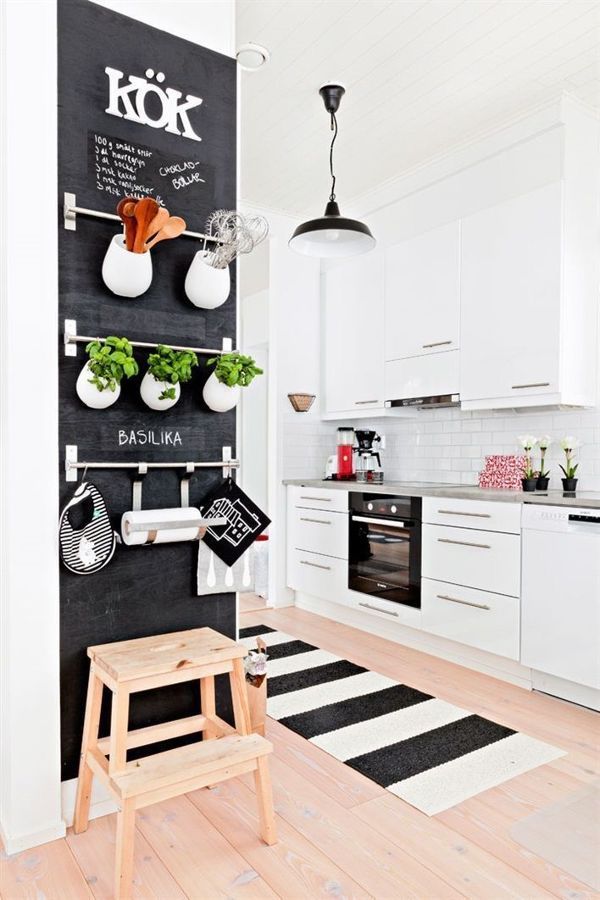 Approximate price : $ 20,000
Time : 2 days
Materials : 1/4 gallon of blackboard paint (10 mt2) – brush – roller – masking tape.
Messages, recipes, orders, whatever you can write and even draw on this wall. It is a very economical option to modernize and make your kitchen more fun. Pick a small wall and start painting. What is being used a lot is to include hanging pots and paint them with chalkboard paint, so you can put the name of each of your vegetables. The contrast of black with green is beautiful, as we can see in the first image.
Floor with design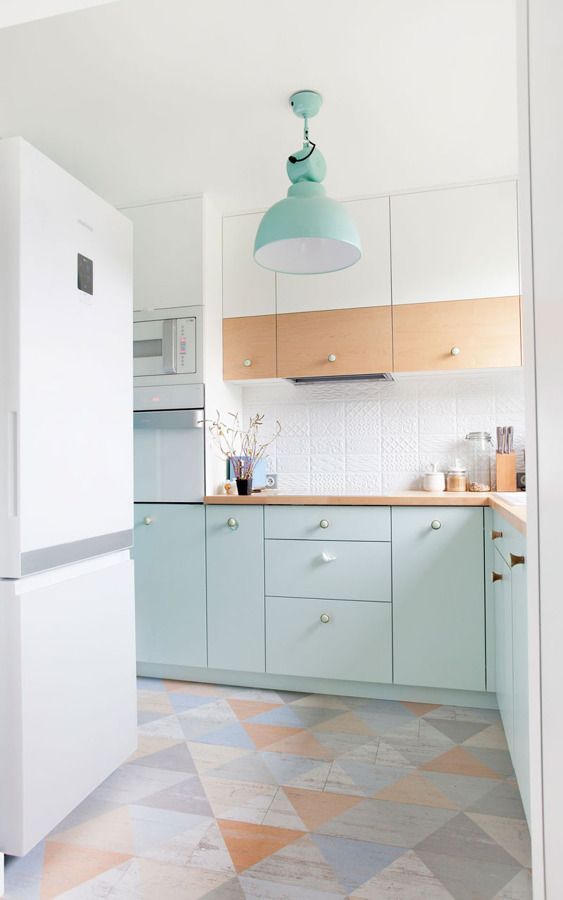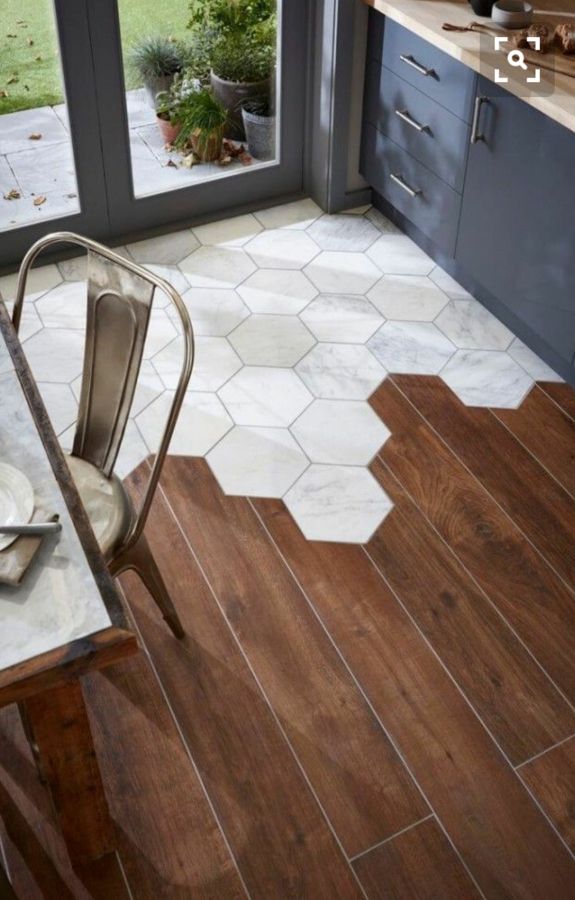 Approximate price : $ 40,000 mt2
Time : Around 5 – 6 days
Materials : Floating floor – paint (first option, with 3 colors) or hexagonal porcelain tile (second option)
How important and what style can a floor designed especially for your kitchen provide. Although we are not used to using floating floors in this space, since it can be a very new option that is perfect if you paint it or mix it with porcelain tile. If you choose to paint, create stencils to make it look perfect. Use a sprayer and everything will be simplified.
Organizing in style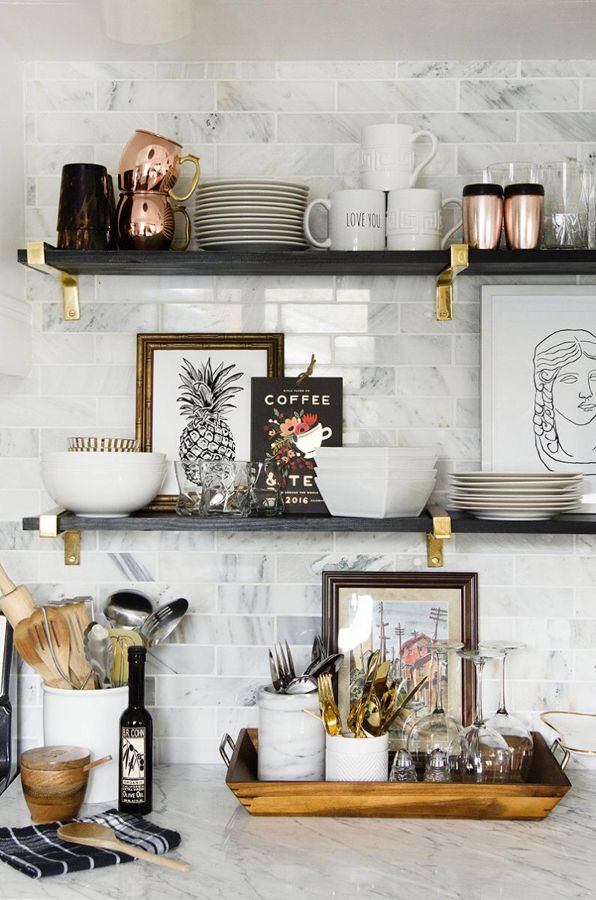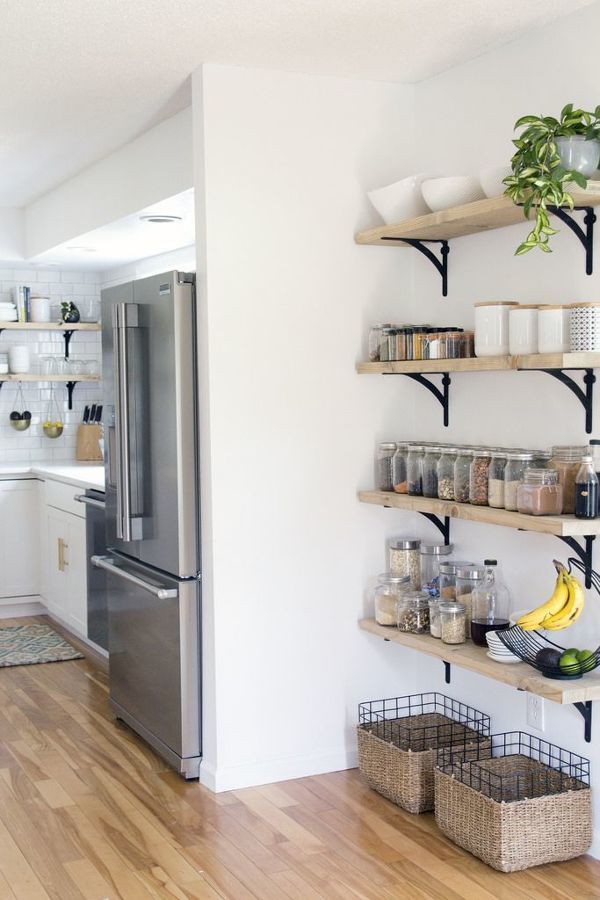 Approximate price : from $ 4,500 to $ 13,000 each
Time : Hours
Materials : Sized wood – square support – screws or floating wall shelf.
The decision is in your hands. You can build one from scratch by designing it with colors and textures to your liking or buy a "come and install" one. They come in various colors, materials, and shapes. And they really enrich your spaces, especially if your kitchen is spacious. Displaying your cute mugs and ordering your meals in a special way – always in style – can give your space a lot of fun.
Walls that play with geometry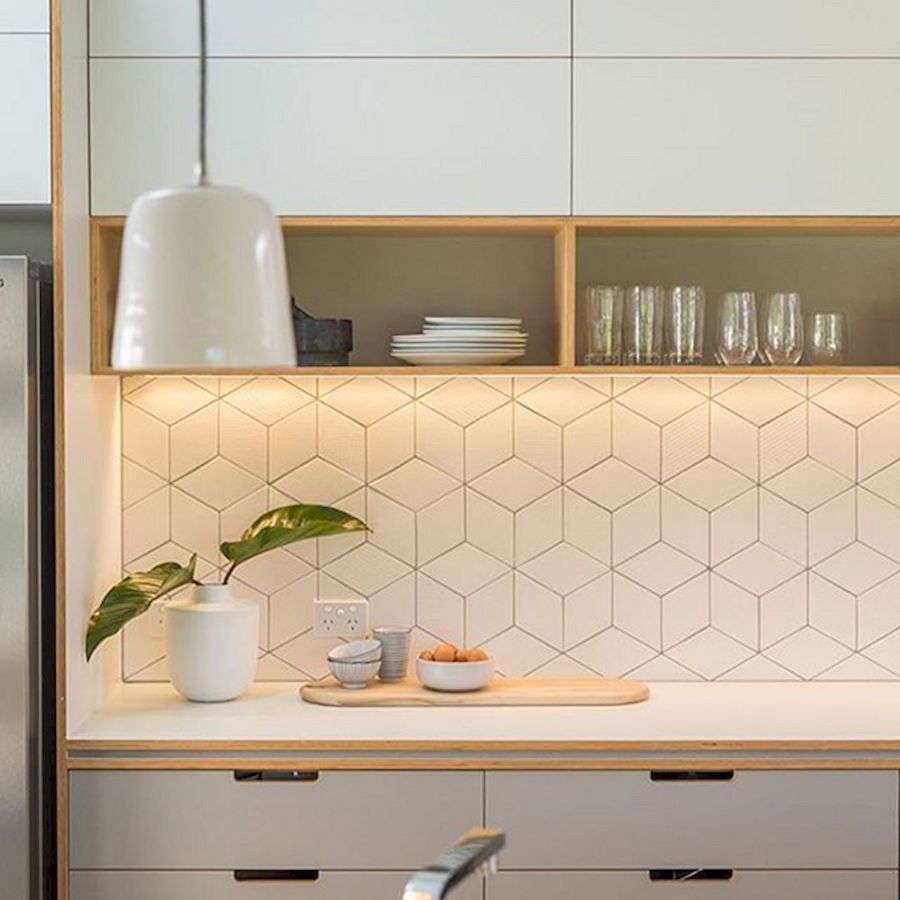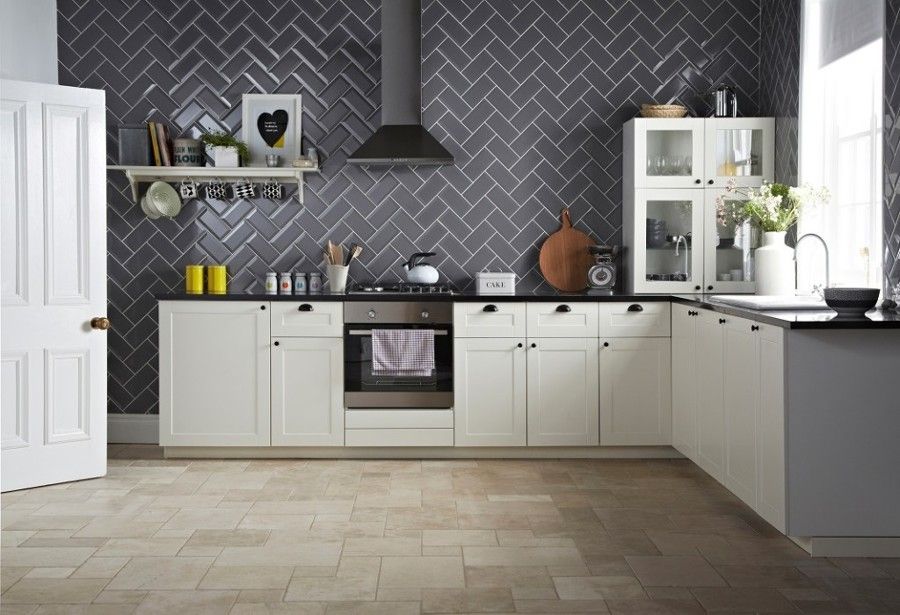 Approximate price : $ 15,000 mt2
Time : 6-7 days
Materials : Ceramics – ceramic adhesive
We return to geometry but this time on the walls. Using ceramic tiles in the kitchen is a must that does not go out of style in our country and in the world. Although we tried to innovate in the previous suggestion, using a floating floor in this space, now we return to a classic but using different designs or ways of using them.
Changing the color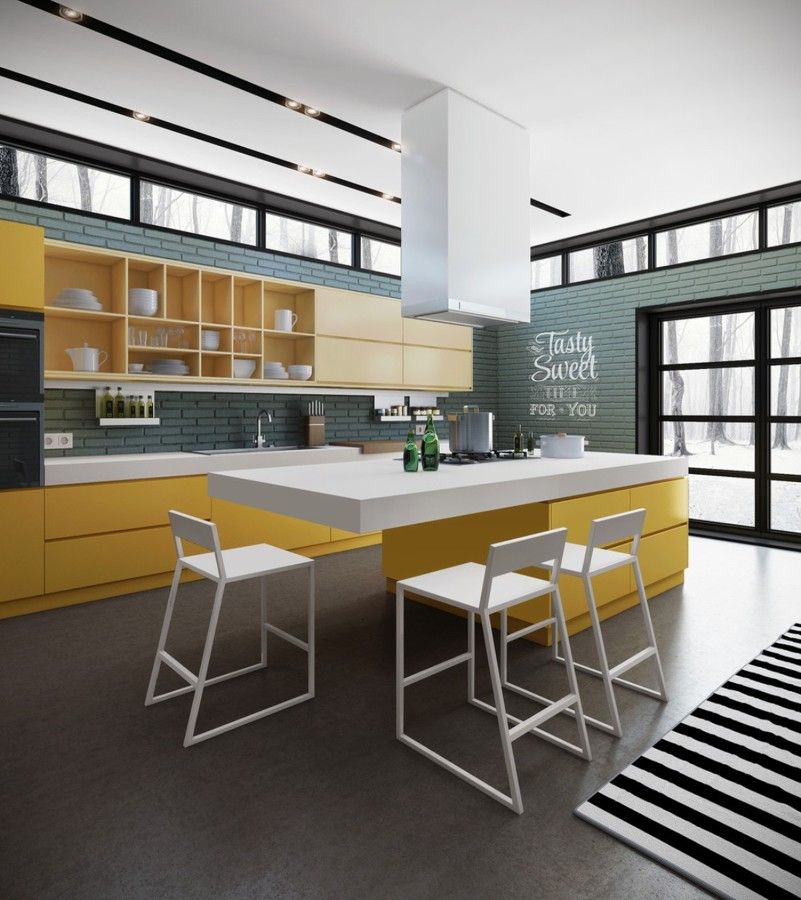 Approximate price : between $ 25,000 or $ 80,000 – $ 180,000 (depending on the option you choose)
Time : 4-7 days
Materials : Kitchen kits or doors – paint – brush – roller
Changing the color of your furniture is undoubtedly the most radical thing you can do. But giving life to the kitchen with different colors will create a playful modernity in your space. You have the option of changing all the furniture or just the doors and painting them if you can't find the color you want on the market. In truth, it is difficult to find colors in furniture, like yellow for the kitchen, so it is up to you to play them and see how you achieve it.
Meson to eat and cook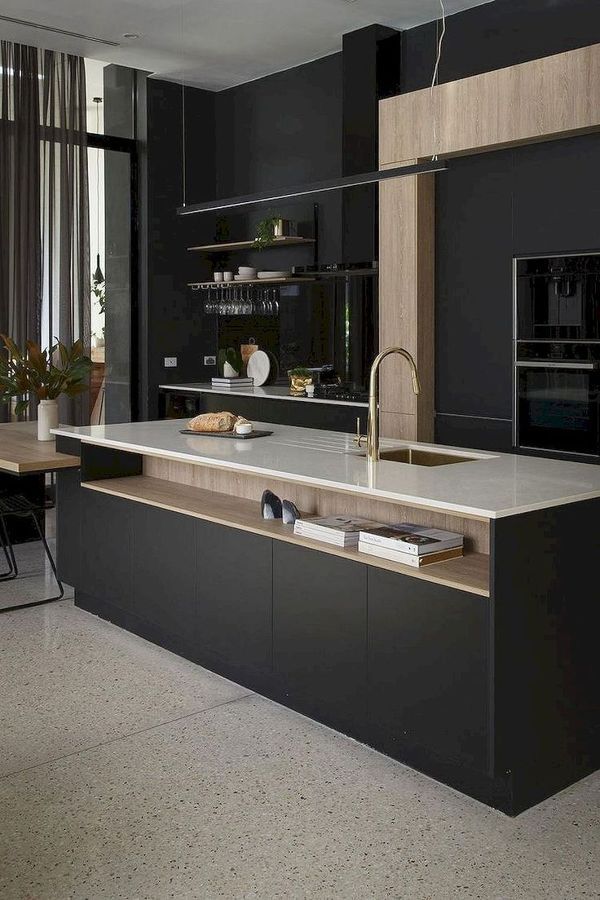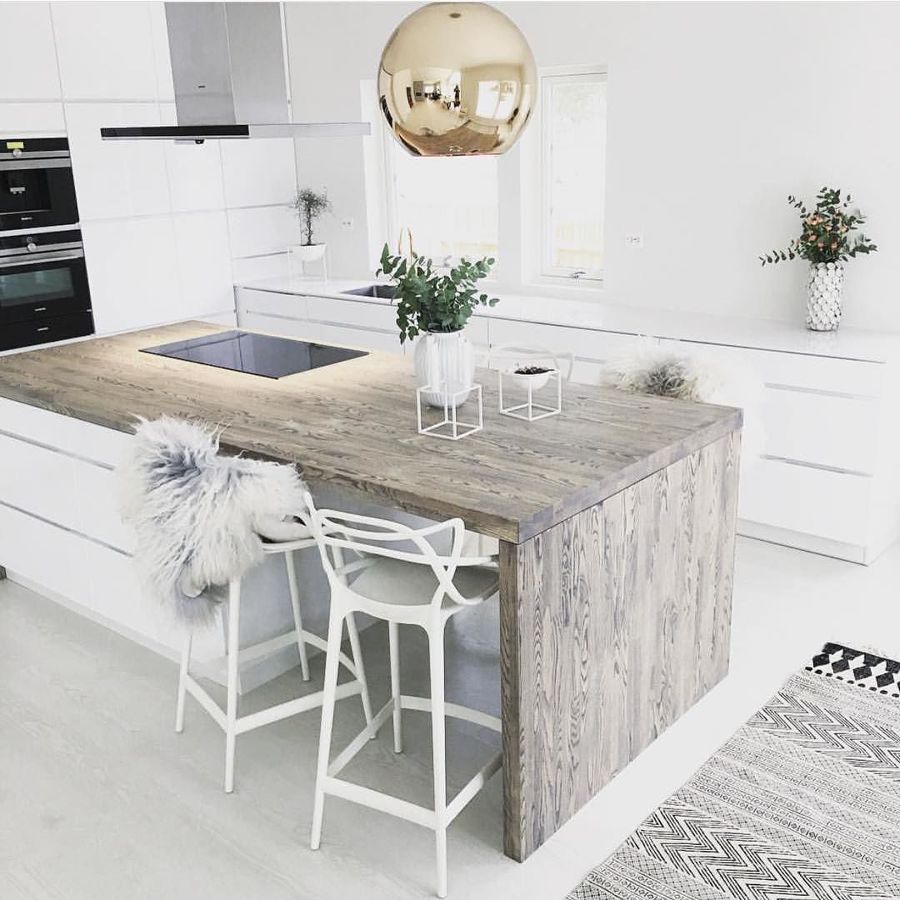 Approximate price : options from $ 20,000 to $ 100,000
Time : 1 – 2 days
Materials : Marble, postformed or wood kitchen cover
It depends on the material, color and type you choose, the result you will have in your kitchen. Although it is a small remodel, it can create a noticeable before and after. Create spaces to share and spice it up with subtle details. Whether in marble or wood (as in the images), never forget that by trying you create a difference.
Picture Credit: depto51